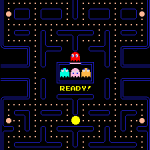 The Originals Interactive Bible was created by Namco in order to spread the word of Pacman and Pac-Mania. It soon became a best-seller and two more Interactive Bibles were released soon after.
The Story
Edit
The bible shows the basic story of The Ghost Box and Pacman reaching complete Critical Mass (represented on level 264 and on).
Ad blocker interference detected!
Wikia is a free-to-use site that makes money from advertising. We have a modified experience for viewers using ad blockers

Wikia is not accessible if you've made further modifications. Remove the custom ad blocker rule(s) and the page will load as expected.